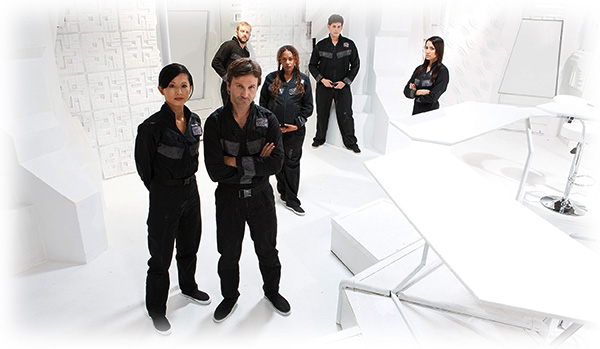 About the Film
Starring Breckin Meyer, Tamlyn Tomita, David Blue and Rachel True, as well as Internet icons Tony Janning and Milynn Sarley, White Room: 02B3 is a film short about six strangers who wake up in a white room to find out they are part of an extraordinary experiment that could change the face of humanity forever.
The Technology Behind It
Boldly going where no movie has gone before, White Room: 02B3 is a first-of-its-kind film. It was shot using a cutting-edge 360° camera system, allowing Roddenberry Entertainment to continue its tradition of breaking the mold and pushing the status quo. Sitting in the middle of the single-room set, the camera captures 360-degrees outwardly in high-definition panoramic video with no gaps or distortion during filming. With a 360° camera, all actors are filmed simultaneously, presenting a unique challenge for writers, producers, actors and the director. The script has to incorporate relevant information for characters that would normally be off camera, and every actor in the room has to be in character while the camera is rolling with no opportunities to cut until the end of a scene.
An Amazingly Unique Experience
Distribution methods for the film are no less groundbreaking than its production. White Room: 02B3 should be available via dome theaters as well as mobile devices, redefining what it means for an audience to engage in and interact with their entertainment. In both cases, the viewer's ability to literally look around the room and see what's going on is what makes White Room: 02B3 one of the most immersive experiences you'll ever encounter.
Cast

One
Breckin Meyer
Five
Tamlyn Tomita
Six
David Blue
Three
Rachel True
Two
Tony Janning
Four
Milynn Sarley
and
Fyn-Ke'al
Doug Jones



Director/Producer Unit

Director
Greg Aronowitz
Writer/Producer
Tory Mell
Executive Producer
Rod Roddenberry
Executive Producer
Trevor Roth
Producer
Kim Evey
Associate Producer
Ryan Harvie
Social Animal, CEO
Tyler Malin
Social Animal, VP
Matt Forrest



Art Department

Production Designer
Greg Aronowitz
Art Director
Alynne Schripsema
Set Builder
Mazin Dajani
Art Swing
Robert "Kid" Kindores
Art Assistant
John Jenaro Arandia



Assistant Directors

1st Assistant Director
Kate Cohen
2nd Assistant Director
Sloane Grace
Key Production Assistant
Jackie Smith
Production Assistant
Martin Kiessling
Production Assistant
Geoff Bisente
Production Assistant
Adrian Noriega
Production Assistant
Justin Morgan
Production Assistant
Matt Gallenstein



Camera

Director of Photography
Chris Darnell
1st AC A Cam
Stephen Tringali
1st AC B Cam
Derek Wiley
B Cam Op
Vahe Papazyan
DIT
Adam Foskey
Director of Photography (Social Animal)
Eric Soboleski
Camear PA
Eddie Ryan



Catering/Craft Services

Catering
Boyz in the Kitchen
Craft Services
Denise Pantoja



Construction

Construction Coordinator
Kirsten Larsen
Set Painter
Kimberly Carrasco
Set Painter
Jeff Winkler
Set Painter
America Young



Electric

Gaffer
Chris Walters



Grip

Key Grip
Brian Taylor
Grip
Roger Peterson



Makeup/Hair

Key Hair & Makeup
Robert Kato Destefan
Assistant Hair & Makeup
Thomas Surprenant



Script Supervisor

Script Supervisor Lead
Sandy Fleck
Script Supervisor
Stephanie Rose
Script Supervisor
Catherine Cobb



Sound

Sound Mixer
Steve Blazewick
Boom Operator
Leonardo Nasca



Still Photography

Still Photographer
Sean Murphy
Still Photographer
Tanit Salkakini



Wardrobe

Costume Designer
Kristin Ingram
Set Costumer
Amanda Jilek
Seamstress
Sarah Megni



EPK

EPK
Ezra Gould
EPK Assistant
Justin Johns